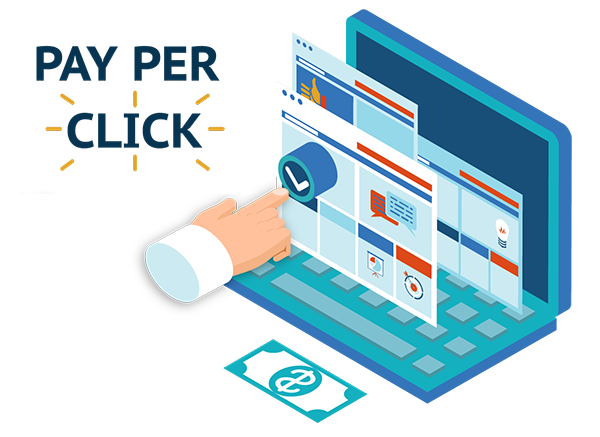 Pay-Per-Click advertising is one of the best options going. The term pay-per-click is very straightforward. With this kind of advertising, you only pay when a user clicks on your ad. Your ad only shows up when a user searches specific key words that you have associated with your ad. The obvious benefit is that you aren't stuck paying for a bunch of tire-kickers. You can pay based on a price you set for yourself, or Google uses a real-time automatic bidding system in which you agree to pay Google their recommended bid price any time an ad is clicked.
Search Ads
Search ads are the most common ads you'll see in the search results. These PPC ads appear at the top and bottom of the search results on Google. You'll see these ads tagged with the word "ad" to indicate paid content.
Display ads
are another PPC ad type you can use to reach people interested in your business. These ads appear on Google's partner websites. Instead of being all-text ads, these ads typically include a photo and text.
Social ads
Social media ads are one of the most popular types of paid advertising. These ads appear in social media feeds on different platforms. It's a great way to connect with social media users.
Remarketing ads
A remarketed ad is one of the types of PPC campaigns you can run to reengage your audience.
Paid advertising is perhaps the best solution to increase the number of conversions for a specific call to action. Our pay per click (PPC) advertising team utilizes the industry's top search engines (Google, Bing, Yahoo) to base your campaigns on. All campaigns are run through our advertising team, in which all members are Google AdWords certified.
PPC Ad Management Services
We are a PPC agency that focuses on your success as a whole. Whether you want to increase conversions, traffic to your website, or both, our tech-enabled PPC management services can help you reach your goal
The Best Solutions for Our Clients
We deliver a custom PPC campaign to help you increase both conversions and revenue for your company with our PPC management services.